This shop has been compensated by Collective Bias, Inc. and its advertiser. All opinions are mine alone. #GiveColorfully #CollectiveBias
Color your own festive printable DIY Christmas Gift Boxes for holiday gifting!
When it comes to holiday gifting, I like to try to shop early so that I don't have to fight the crowds. Try as I might, I still find myself doing some last-minute gift shopping for people on my list, including teachers, school friends, and co-workers. To get myself prepared this year, I've come up with some Free Printable Christmas Gift Boxes that you can color yourself to keep on-hand that can be filled with a gift or two.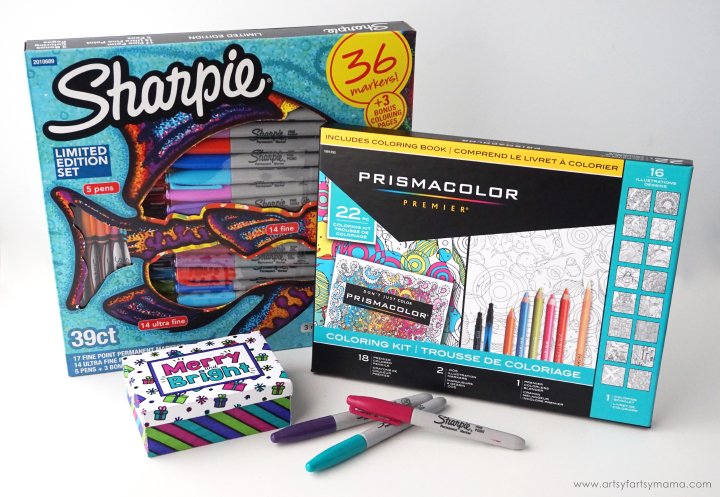 Make the holidays bright, bold and full of possibilities with Sharpie gift packs found at Target stores and online at Target.com. These new doodling and drawing gift sets are for every kind of artist, and make great gifts for kids, tweens and adults! Hover over the image to buy these gift packs now, and from 12/3 to 12/23 you can save $10 with the low price of $19.99 with
this offer
.
The Sharpie Permanent Markers Limited Edition Gift Pack is loaded with a dazzling array of 17 fine point (for bold strokes), 3 metallic (for a stunning sheen) and 14 ultra-fine point (for intricate details) color markers. You can also explore the depths of your creativity with 3 bonus coloring pages!
The
Prismacolor Premier Coloring Book Kit
has everything you need to create vibrant artwork, colorful sketches, and precise illustrations. This brilliant set includes 18 Prismacolor colored pencils, 2 illustration markers, a colorless blender pencil, and an adult coloring book!
These Free Printable Coloring Christmas Gift Boxes are easy to color and assemble. Plus, your gift (even if it's last-minute) will have that handmade touch that everyone loves to receive! The boxes have a top and a bottom piece that fit together beautifully to hold smaller items like gift cards, jewelry, treats, and more!
Start by printing off the bottom template (stripes) and one of the tops (with a holiday pattern and message) on white cardstock. Use Sharpie markers and/or Prismacolor colored pencils in a variety of colors to fill in the box template designs.
After the box templates have been colored, cut them out following the solid guidelines. There will also be a solid line to cut on one side of each of the tabs. Be sure to look closely so that you cut the right ones!
Use a scoring tool/bone folder and a ruler to score along the dotted lines on the box templates. Scoring the paper before folding it will help prevent cracks, wrinkles and crooked folds. Fold along the score line gently with your hands. Using your fingernail or a credit card, press down firmly on the fold and slide across the fold. Repeat for all of the score lines.
Assemble the bottom box piece first. Use a glue stick or a tape runner to add adhesive on all four of the corners.
Turn the box over, and carefully fold the corner pieces inside to stick to the shorter side pieces. Line the edges of the piece up with the folded edge of the corner. Press well so that the paper sticks or until the glue sets. Repeat for the opposite side.
Now the bottom part of the box is complete! If you feel like your box needs a little more stability, you can add a piece of tape in the inside of the box where the corner pieces meet in the center.
Start by turning the top box template over. Add some glue or a line of tape runner to both of the long sides of the box. Fold the edge over along the first score line. Press down well so that the paper sticks together.
Next, fold those longer sides up and fold the tabs in. Add some glue or a line of tape runner to one of the shorter sides. Lift it up and press the tabs to stick to the bottom half of the short side. The score line should be just above the tabs.
Fold the top half of the side down over top of the tabs and press well. All of this folding and gluing will make the box look clean, as well as help it be stronger and to keep its shape.
Turn the box lid over and make sure none of the edges are coming undone. This is also a good time to make sure that the box lid fits well over the bottom piece and make any adjustments if needed.
Now the box is ready to be filled with goodies! Like I said before, this is the perfect-sized box for gift cards, jewelry, goodies, and more. This would also be a great addition to the Sharpie gift pack as a creative gift idea!
Print out the gift boxes by clicking the link below. There are three gift box lids and one bottom template in the set for you to color and assemble to share gifts this holiday season. For best results, I recommend printing the boxes on heavy cardstock.
Some things you should know before downloading:
*Artsy-Fartsy Mama printables are for PERSONAL USE ONLY (home, school, libraries, etc).
*You may NOT modify, re-sell, redistribute, or claim the design as your own.
*Please do not remove the credits/watermarks.
*If you'd like to share this project, you may use ONE photo and credit must be given to Artsy-Fartsy Mama and linked back to this post.
Look for the gift sets now on endcap displays in-store at Target (and online), and don't forget to use
this offer
from 12/3 to 12/23 to save $10 with the low price of $19.99! I got the Sharpie and Prismacolor set as a gift to myself this Christmas.
Who would you share this colorful gift with?